Face-to-face fundraising is an incredible way for us to raise funds to keep the work of King's College Hospital Charity going today, tomorrow and for years to come.
If your question is not answered below or you have another query, please do get in touch with us at [email protected] or call our SupporterLine on 020 4526 8051 between 9am-5pm Monday to Friday.  
Where are we currently fundraising? 
We are knocking on doors in your local community, as well as in shops, shopping centres and spaces all over London and the South East. 
Please click below to read a list of our fundraising locations, updated every two weeks, so you know when we will be in your local area.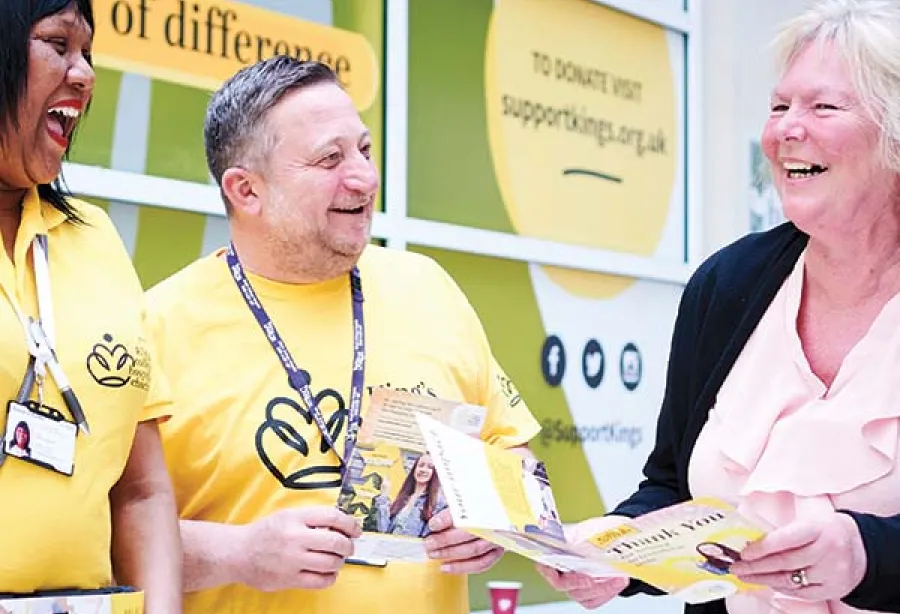 Our door-to-door and private site locations
Click here to see a list of the postcodes and community locations where our fundraisers are currently active. If you've received a visit somewhere not listed, please don't hesitate to get in touch.
Why does the Charity use face-to-face fundraising?  
Regular gifts are vital for charities across the UK and King's College Hospital Charity is no different.  
Every gift we receive makes a huge difference to the work we do, but regular monthly gifts have the added benefit of allowing us to plan for the long term and use funds to their greatest effect.  
Many of our projects - from the helipad at King's College Hospital in Denmark Hill, to our world leading research - require months, or even years of funding. Knowing exactly how much money we will receive in the future allows us to plan for the long term and ultimately use our supporters' donations more effectively.  
Our Annual Report each year compares our expenditure on fundraising activities with the income those activities generate to support King's.
How do I know the fundraiser I am talking to is genuine?  
You can make sure the fundraiser you are talking to is legitimate by checking the following:  
All fundraisers for King's College Hospital Charity will be wearing a name badge showing their name, the company they work for (Appco UK Ltd) as well as the charity they are fundraising on behalf of.
All fundraisers will be wearing King's College Hospital Charity apparel and handing out King's College Hospital Charity materials, all of which have our logo clearly on display.
Fundraisers will never accept or ask for cash.
Fundraisers will be using tablet devices to collect donations securely, and will never write down personal or private information on paper or another device.  
If you are still concerned that the fundraiser you have seen is not genuine, please contact us at [email protected] or phone us on 020 4526 8050 between 9am-5pm Monday to Friday.
I have had a conversation with a fundraiser and want to donate. 
We understand you may want to do your own research after talking to a fundraiser. A regular gift is a big financial commitment and we want to ensure that you are confident in your choice to support us.
If you have previously had a conversation with a fundraiser, and now wish to give, you can make a donation by clicking the button below.