Indoor Oasis
An indoor oasis, designed to inspire, calm and relax is beginning to bloom in the Golden Jubilee Wing. 
The tropical space will provide staff, patients, visitors and volunteers a place to stop and recharge in one of the busiest areas of the hospital.  
The garden has been carefully designed to reflect the 'NHS Hero' posters created during the COVID-19 pandemic, connecting the exterior and interior of the hospital through a synergy of purples, greens and deep reds.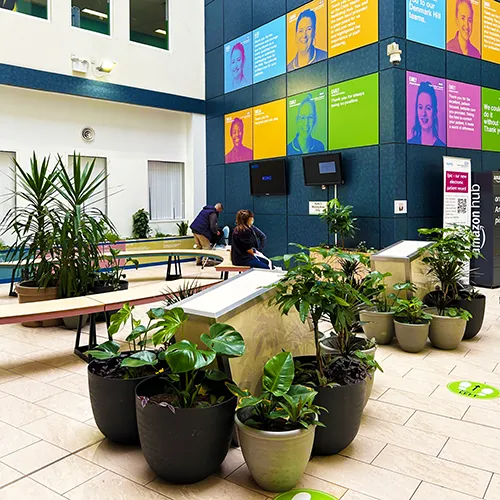 Outdoor garden 
Hospital staff can't care for patients at their full capacity unless they care for themselves first. As part of an initiative to support the physical and mental health of King's staff, we've teamed up with the Wellbeing Hub to create an outdoor garden at Denmark Hill, transforming an unused space into a sanctuary.
Laura Duffell, Health and Wellbeing Manager at Denmark Hill said: "To see staff so excited about this transformation has really shown the value of this project. Collaborating with CEF, King's College Hospital Charity and Sound Environments to create a relaxing outside space for the workforce in such a central location has been fantastic."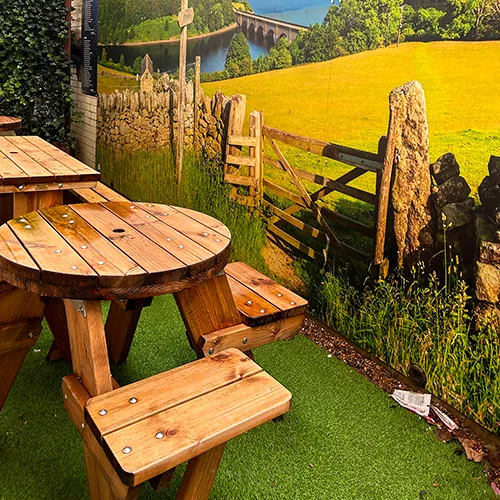 "The Wellbeing Team, CEF and Sound Environments with the support of the Charity have managed to turn an ugly, dead space into a calming and friendly place to be. It's been amazing the see the transformation in a previously underused and unloved area. A great achievement by all."
Claire Melody, Facilities Manager at Denmark Hill
Mothers' expressing room
Art and nature play a crucial role in creating a therapeutic environment in the newly refurbished mothers' expressing room at Denmark Hill. The comfortable and private environment, with soothing scenes of nature and plush seating, offers the perfect space for new mothers to bond with their children. It also promotes healthy practices and reduces the risk of infections and illnesses.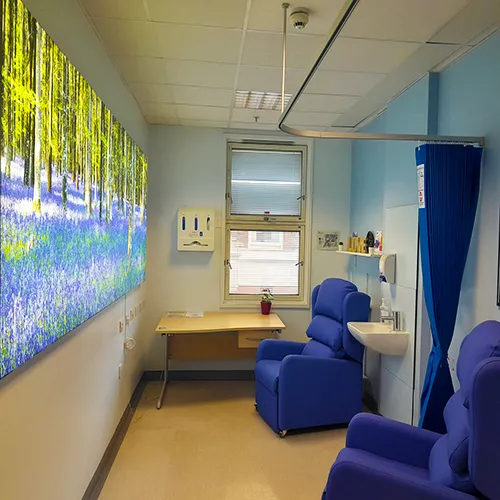 Smart lighting panels
Another area getting a colourful boost is the paediatric wards, where smart lighting panels now create a vivid scene with the sky, clouds, and, naturally, sunshine, for children who may be stuck indoors for long periods of time. 
Being in nature, or even viewing scenes of nature, can completely change how patients feel in hospital, from minimising stress and anxiety to speeding up recovery. 
The skylights use LED technology to mimic natural daylight, installed in ceilings to create the illusion of a sunny sky, even in interior spaces. As well as enhancing patient wellbeing and improving the overall ambience of the space, these energy-efficient lighting panels consume less electricity in comparison to traditional lighting, helping King's to cut down on costs.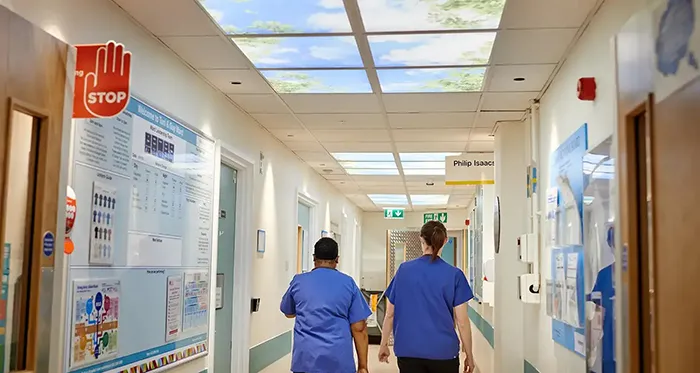 You make this possible
We're so proud of what we've achieved so far, but our work doesn't stop there. From a complete refurbishment of the Emergency Department to a brand new parents' room in the paediatric wards, we have even more projects in the pipeline to make the best care possible.
With your support, we're making a real difference to King's patients, families and staff.